This article was written by Joanna Boisen and was first published in KCBA's Bar Bulletin. It is reprinted here with KCBA's permission.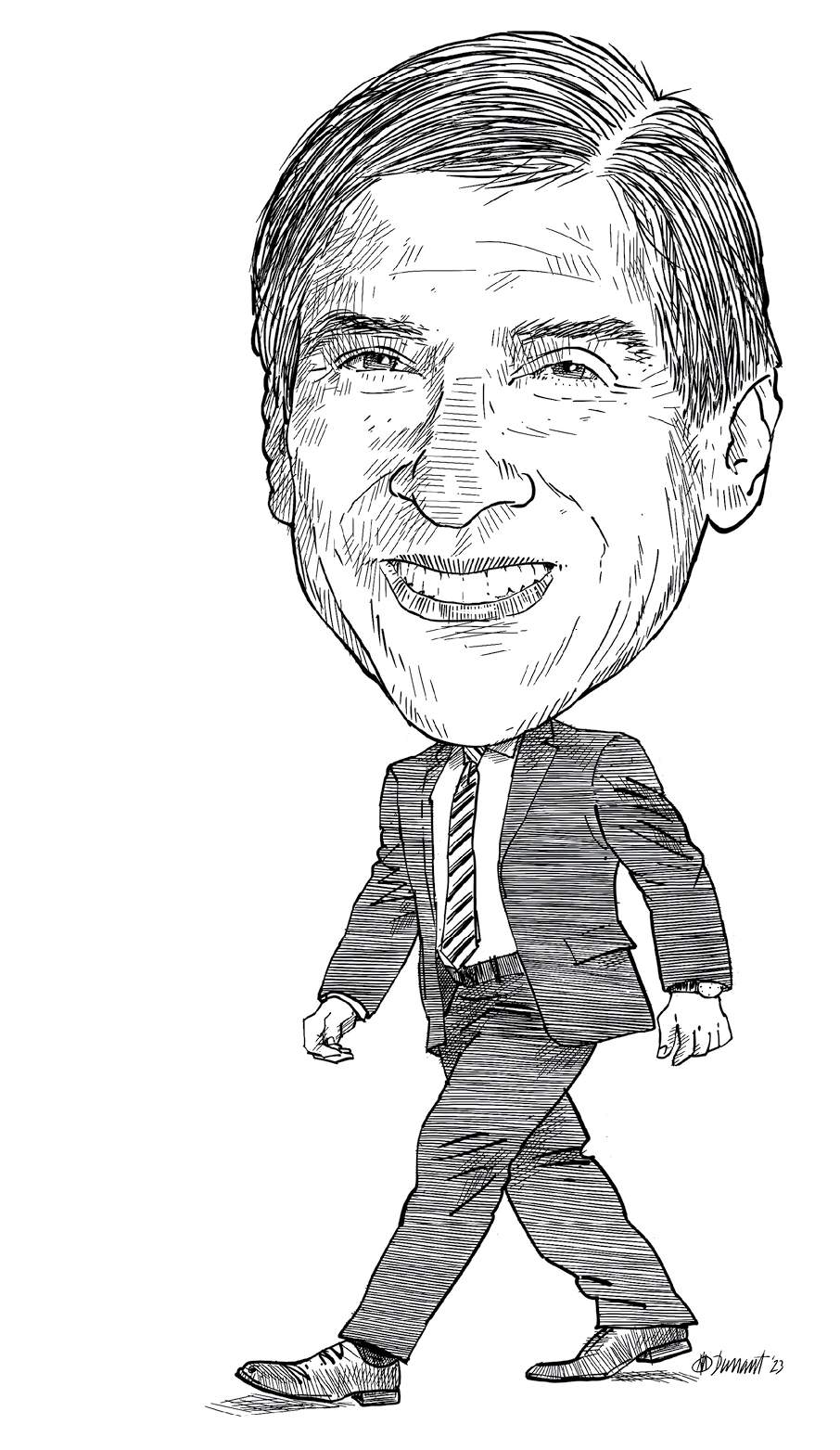 Next year, 40 years will have passed since Sal Mungia first started practicing law. Almost four decades later, he still loves being a lawyer. He still loves his firm, Gordon Thomas Honeywell. He still loves the competition and the collaboration that comes with building and maintaining a wildly successful practice. And he still loves the idea that another chapter in his career is yet to be written, because in the fall of 2024, Sal will run for Justice Susan Owens's seat on the Washington State Supreme Court.
What brought him to this point in his career is a storied, impressive journey. Comprehensively discussing his practice, myriad accomplishments, and magnetic personality would take a novella, not an article, but the short of it is Sal
has been working towards this moment for a lifetime.
Born to a low-income immigrant family, his father from Mexico and his mother from Japan, Sal grew up in Tacoma understanding firsthand the tremendous difference access to justice makes for underrepresented communities. "I know it's cliché but there's a reason that cliché exists: my parents played a crucial role in who I am today; economically we didn't have much when I was growing up, but what I did have was two parents who loved me, who cared about me, who sacrificed for me," he said. Seeing them mistreated and discriminated against imprinted a desire in Sal to advocate for those treated unfairly and unlawfully. It also solidified what he knew from a very early age — he wanted to advance justice for communities and constituencies like the one he came from.
That is why after graduating from Pacific Lutheran University he attended Georgetown University Law Center to pursue a career in the law. After law school, he clerked for Supreme Court Justice Fred Dore and U.S District Court Judge Carolyn Dimmick, and then in 1986 joined Gordon Thomas Honeywell (GTH), where he was mentored by future U.S. District Judge Ron Leighton and well-respected practitioner Jack Connelly, learning directly from two of the best jurists in the state. "Both had different styles and approaches to the law," said Sal. "Both were, and are, the best of our profession — they both played key roles in my development as an attorney," he said. Today, Sal is the one doing the teaching and the leading, serving as GTH's managing partner while maintaining a very busy and demanding law practice.
Four decades of broad experience will serve him well if he joins the Washington Supreme Court — not just because of its scope, but because of his approach to practicing law. From running civil rights class action trials, to advising companies and nonprofits, to representing individuals, Sal has litigated in state and federal courts, represented defendants and plaintiffs in diverse disputes, and has argued at every appellate court level. His ability to consider all sides of an issue, regardless of whom he's representing, is extraordinary. "I want to know the weaknesses of my cases as well as the strengths," said Sal. "I am a hard worker. I listen. I believe in the rule of law," he said.
If elected, he will be one of nine justices who decide some of the most important issues facing our state. But that is only one of many aspects that draws Sal to this role. "I look forward to working collaboratively with eight other members of the Court," he said. "I look forward to promoting access to the justice system, to encouraging lawyers to represent clients pro bono, and to continuing to promote equity and diversity within our profession," he said. This is the work that brings him the most satisfaction and professional fulfillment.
On a personal level, however, nothing brings Sal as much joy as his four kids and grandson. "I am not kidding when I say that when they are just with me, that, by itself, makes me happy. Hands down, best part of my life." For this reason, Sal wants to leave the world a better place for those he loves most. Part of that includes assuring access to justice is affordable for all:
My greatest concern is that all of us in the profession become too focused on serving our paying clients, on making money, and not stepping back and realizing that we all have the ability to change someone's life because we have specialized skills. My greatest concern is that we, as lawyers and judges in this profession, don't fully embrace the value that our profession espouses of ensuring that everyone has access to the justice system — we must not only talk the talk, we must also walk the walk.
No one has modeled and lived this philosophy more authentically than Sal. "Sal has always been a relentless and compassionate advocate for the disadvantaged over decades," said Mark Johnson, partner at Johnson Flora Sprangers and co-chair of Sal's Supreme Court campaign. "He is — far and above — the best of us," he said. In addition to a comprehensive pro bono practice, his historical devotion to public service is impressive. Sal has served as a Washington State Bar Association president, chaired the Campaign for Equal Justice, chaired the Washington State Access to Justice Board, served on the Tacoma Human Rights Commission, and served on the ACLU and Lawyers Committee for Civil Rights Under the Law board of directors. Sal has also received more awards and professional recognitions than are practicably listable here, including the Charles A. Goldmark Distinguished Service Award for his extraordinary contributions to the justice system.
If elected, he will continue to promote access to justice and educate others about the crucial role civil legal aid providers and pro bono attorneys play throughout the state — after all, he wants to stay true to what has driven him since childhood. "Since second grade I've wanted to become a lawyer and now I do that for a living," said Sal. "Lawyers can change people's lives and sometimes even change society, law, and policy for the better," he said. "My hope is to continue to make positive changes for our community in a more systemic manner if I am elected to the Court."
This may give him less time to tap into his adventurous side, like cross country skiing Mt. Rainier by moonlight and building an overnight snow cave with his good friend Mark Clausen, but to Sal, it's all worth it. "I want to make the biggest impact that I am able in the time I have left on this earth," he said. What better way to achieve this valiant goal than by serving as a supreme court justice and leveraging 40 years of experience, vision, and heart to benefit not only the bench, but all of us.